Anthony Abbott
Attorney at Law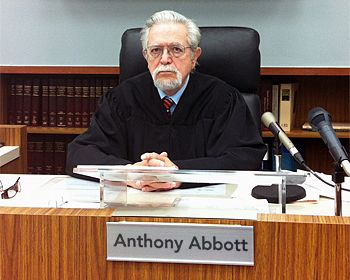 I am not a super religious person, but I believe what Jesus Christ said: "Do unto others what you would have them do unto you." If people would just do what Jesus said, there would be no need for attorneys and I would be thrilled and I would be out of business.
Unfortunately, people go on hurting each other.
When I was 9 years old I wanted to be a priest, and I wanted to be the Pope, but then I discovered girls. In talking to my father we decided the closest thing to God was to be an MD. But after three years in the US Army as a battlefield Medic and a Medical Laboratory Technician stationed in Japan and Korea from 1957 to 1960, I found that I could not stand MDs, only 5% are worth anything so I became a Lawyer.
I did not know 50 years ago when I was sworn in as a Lawyer that the lawyers of today would not base their practice on the Paragon of Lawyers, Abraham Lincoln, instead what we have now are cutthroat lawyers, many of whom, do not care about their clients but are only out to fleece their client, sell their clients down the river, they are terrified to go to trial, I am a member of THE AMERICAN TRIAL LAWYERS ASSOCIATION. I am 84 years old, and that is not what I do. When necessary, I will not hesitate to go to trial for my client.
But unfortunately, people go on hurting each other, and after 50 years I am still in business following the example of Abraham Lincoln.
As I have told many of my clients, if you are dealing with an honest person, all you need is a handshake, but if you are dealing with a thief, you can have boxes of papers 5 feet tall, and they mean nothing. A thief is a thief, and in my office, they get their comeuppance.
Clients continue to recommend Attorney Abbott because:
Anthony Abbott has been a Judge Pro-Tem in the Superior Court, Municipal Court, Mediator, Arbitrator, Judge Pro-Tem Workers' Compensation.

Anthony Abbott has been employed by several huge insurance companies – he knows what they will do to you because he did it.

The Law Office of Anthony Abbott cares about our clients, and we do not hesitate to push our opponents exceedingly hard to obtain favorable outcomes for our clients.
I'm honest and ethical, but I can be a beast when needed.
Bar Admissions
Education
J.D. - Southwestern Law School - Los Angeles, California

B.A. - University of California, Berkeley - Berkeley, California

Case Western Reserve University - Cleveland, Ohio

Wayne State University - Detroit, Michigan

University of Maryland - Tokyo, Japan

University of Southern California - Los Angeles, California

University of California, Los Angeles - Los Angeles, California
Past Experience
United States Army Medical Corps

Security Title Insurance, Tax Searcher and Pricing Officer (Los Angeles, California)

Title Insurance of Los Angeles, Title Searcher (Los Angeles, California)

Continental Insurance Company

Judge Pro-Tem of the Superior Court